Foxx took off his shirt slowly, carefully. He then made his way to the bit of his arm severed from his body and wrapped it up tight before sticking it into his pack. He then made his way over to Altham. "One thing for it. We go back to town, heal a little, Altham needs some help, my left arm is shot."

Pain allowed him to speak utterly clear, when he might not have before. "Hey, Reggie. You take his right side, I'll take his left." Carefully and careful not to be covered in spew, he reached down and threw Altham's left arm over his right shoulder. Waiting for a sign of violence, at which he would move away quickly. Otherwise, he merely lifted with Reggie. "We move back to town now."

When Reggie joined him and Blake was ready, Foxx moved to get back to Veros. When he got back to the church he began to seek out someone who could heal him, offering the piece of arm when he found such a person, and his damaged arm.

_________________
-~-~-~-~-~-~-~-~-~-~-~-~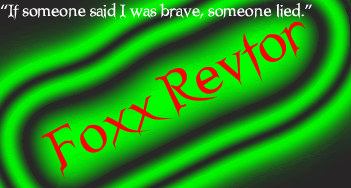 Character Name: Foxx Revtor
Reputation:

Good for Nothing

, Kamikaze, Hired Meat,
Species: Human
Classes: Swordsman, Craftsman, Brute
Weapons: A broadsword kept in a sheath at his back (think, Cloud Strife), a smaller scimitar at his waist and a thin dagger at waist. Sword Breaker.
Special Moves/Skill Record:
Retribution Level 1: Foxx works to back his opponent up against a wall, and then slams his scimitar through their shoulder or arm. He promptly forces the blade through the body, toward the neck.
Retribution Level 2: Foxx uses leg and body strength to toss an opponent off of the ground, and high into the side of a building or a tree. A rapidly thrown scimitar pins the opponent by the Solar Plexus to the tree, wall, etc, and Foxx follows it up by leaping from the ground, his broadsword in front of him, to finish the attack with a full force attack with said broadsword.

Money: 15g
Possessions:
Pack: One tent, 3 silver stakes,
Personal:
House: Two sacks of vegetables, Two loaves of bread, Two Blocks of cheese, One Kitchen Knife, Two pounds of salt, One Kettle, One tin pot
Attire: Brown sewn up shirt, black pants, Steel Toe Boots, leather gloves, fur belt (Arcane Fur Belt)
Quests completed: 2
Unlocked Abilities:
Recipes: Stew, Tea
Item Creation: Metal Working, simple machines
Last edited by Foxx Revtor on Mon Jan 21, 2008 11:54 pm, edited 1 time in total.